I am really excited that my interview on Voyage LA in the May Portraits of the Valley Edition is out. Voyage LA was really great and I enjoyed talking to them about my journey as an artist and how it all began. You can read it here.
I want to thank the writing staff at Voyage LA for being so patient with me and Thomas Gassell for recommending my story. Laurel Schmolze, Terri Loyydd, Michael Adams, Nicole Gershom, Lisa Kantor for the great photos, and everyone that encouraged me to put myself out there and start to share my story. Thank you.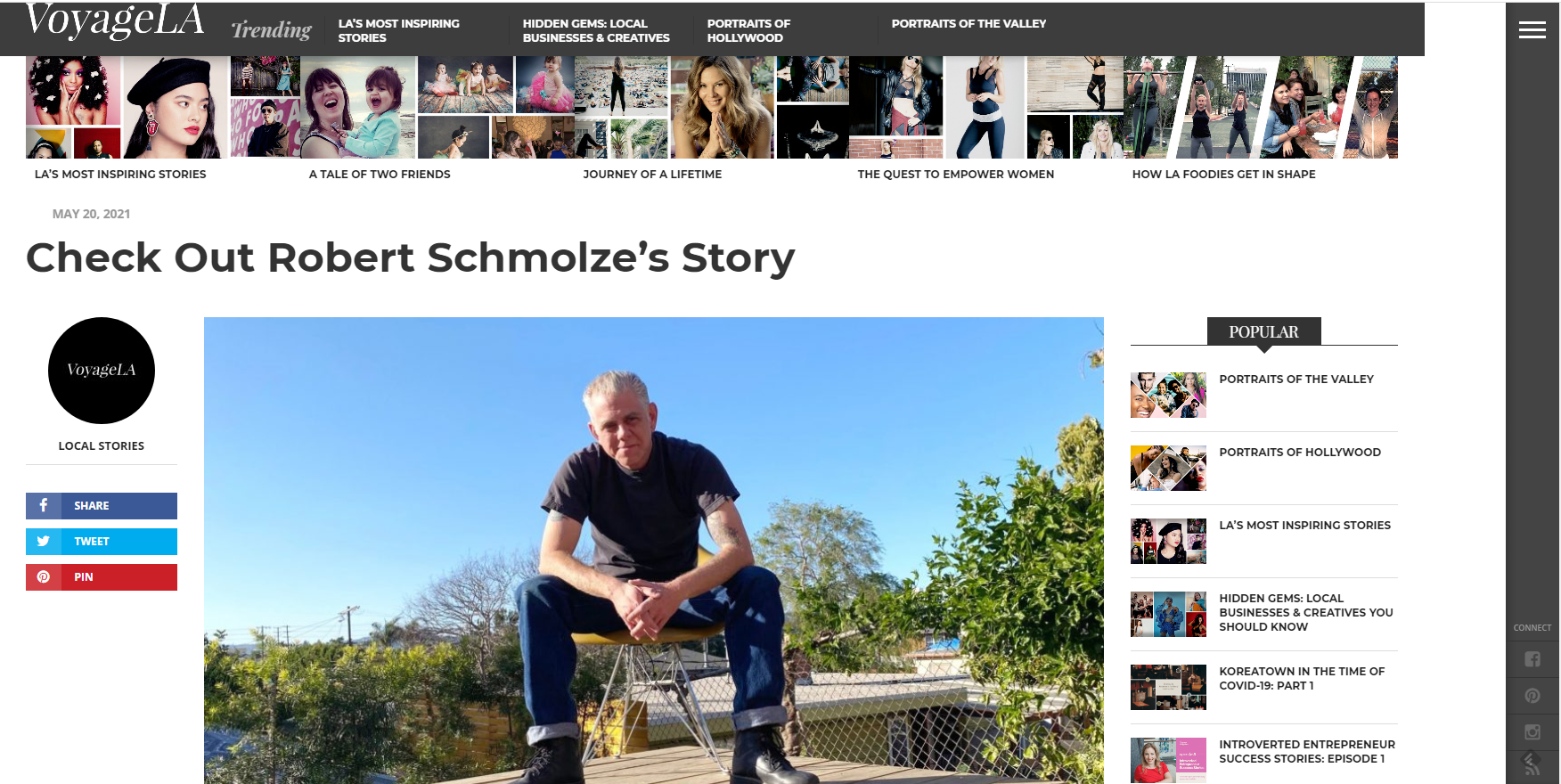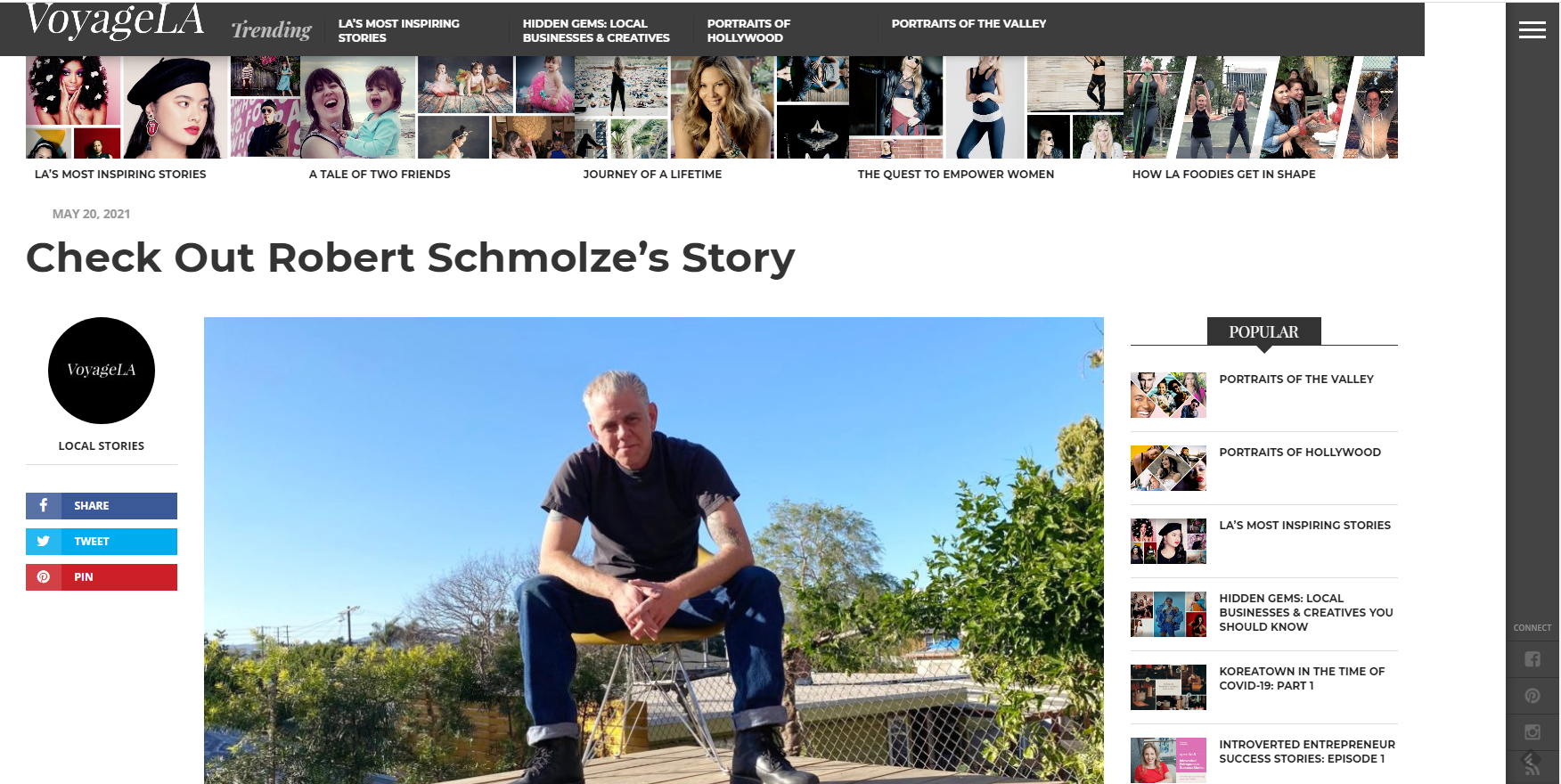 Today we'd like to introduce you to Robert Schmolze.
Hi Robert, it's an honor to have you on the platform. Thanks for taking the time to share your story with us – to start maybe you can share some of your backstory with our readers?
Recuperating after my open heart surgery at the age of three, I would draw for hours at my little orange chair and table in Koreatown in Los Angeles. Imagining all the places and the adventures I wanted to go on. It was empowering to be able to create something out of nothing. From a young age, I have positive memories of the art classes I would take at Barnsdall Art Park, LACMA, and the Getty. I loved learning how to make things and explore different mediums which fostered my passion for discovery, imagination, and mixed media. As a child, I remember running around the tree sculpture in the LACMA courtyard, looking at the antiquities at the Getty, and creating sculptures at the Barnsdall Art Park in Los Feliz. They were places of wonder, inspiring, powerful. I felt transported and inspired, my mind would race with stories.
The Los Angeles Art Programs were a huge part of my childhood that spilled over into my adult life. Seeing the whole process: what it took for a piece of art to be created, to the collaboration with other artists, to put on a show, and finally watching a community come and enjoy or hate it. That seemed normal, that was right. At the age of 16, I was in my first group art show at the Onyx Cafe on Los Feliz Blvd. I was hooked. They fostered an evolving sense of community of creatives wandering in and out. They created a space to express yourself, share, test, fail, explore and celebrate.
After graduating from Los County High School for the Arts, I took a road trip across the country, joined AmeriCorps, and went to school full time. I received a scholarship to MCAD in Minneapolis, where I learned what the weather was really like. There I was allowed and encouraged to experiment with mixing digital art with painting, performance art, design, and video. In the summers, I would come back to Los Angeles and take art classes at Otis College of Art and Design and curate group art shows at the Insomnia Cafe. Shortly after graduation, the LA Art scene started taking ownership of the city. Ideas of where Art could be displayed, do Graffiti belong only on the street, are mass-produced toys Fine Art or collectibles? Does it Matter? I loved it all. The web was moving out of HTML and the art scene was creating a new language.
Los Angeles had just designated an area of Downtown Los Angeles as the Gallery Row and the Monthly Artwalks started to get organized and happen regularly. I threw myself in the mix and started collaborating with creatives. For the next ten years, I co-curated art shows, events and exhibited my art wherever I could: bars, galleries, private residences, businesses. Alternative spaces including offices, nightclubs, and pop-up spaces. Some of the art spaces include Onyx Café, Insomnia Café, Calhoun Square, the Light Bringers Gallery, The Hangar, The Hive Gallery, The Ivar, Boardners, Spanish Kitchen Studios, Da Vinci Gallery, Pearl Arts and Crafts, The Art Store, Upstairs at the Market Gallery, the Pig 'n Whistle, American Electric Tattoo, Ecological Art Gallery, State Farm Insurance, Zackheim Gallery, The Julia Dean Gallery, and Furniture Showrooms. Most times, we would have to put shows up and tear them down in a day. I am so passionate about collaborations and community. Some collaborations have led to the creation of Artist Groups, Events, Billboard, and limited-edition handmade Artist Books.
Over 100 art shows later, I learned that just like making a piece of art, a show could evolve into something else that you could have never dreamed of. You just had to set the "stage" and create micro experiences for people to interact with. It was always messy and always a surprise. We would never know what would succeed and what events would fail. Even if it was with the same artist, in the same space, on the same day of the week.
Currently, I live in Reseda and work in Woodland Hills as a Marketing Director and Fine Artist. I have a blog series "Called Marketing for Creatives". I am launching an interview series called "Friend Time: Conversations with creatives."
I was formed through my experiences growing up in Koreatown, the Crenshaw District, having open-heart surgery, participating in the Los Angeles Cultural Arts Programs, finding my forever growing Artistic Family, Community Gardens, and eating my weight in Peanut Butter. I was raised in an environment of inclusion, co-ops, diversity, art, design, and community. I have been very fortunate that my art is privately collected and can be found locally and around the world.
Alright, so let's dig a little deeper into the story – has it been an easy path overall and if not, what were the challenges you've had to overcome?
Artists struggle, it comes from a variety of truths. We struggle to pay for the supplies needed to create our pieces. We struggle to find spaces to display our work and create experiential exhibits for the community. We struggle to find our voice and to express ourselves amidst internal criticism and judgment. I have come to realize that I found that situations I thought were setbacks, where 90% of the time a learning experience that needed to happen. There are always things in life that will not meet your expectations or go as planned. That is why I think adaptability is so important to try to be able to pivot or look for solutions to problems that come up. Oftentimes it leads to something you never dreamed of could be a reality. It's been a journey. I am looking forward to it.
Thanks for sharing that. So, maybe next you can tell us a bit more about your work?
I am a Fine Artist and Marketing Director. A creative person, I love to make things. I primarily work in oil paint and digital art. Most recently, I have been rediscovering sculpture and performance art. I use art to express my myths. I am a symbolist, influenced by the Industrial revolution. I like to tell unique stories using a Dada process with a Los Angeles-inspired color palette. I love creating large pieces that evoke feelings. I have used a lot of themes from mythos that really connects with me. My favorite piece is a 6-foot wide piece featuring three men standing together in water with their arms linked at the elbows. They all have one long pole piercing through their cheeks holding them together. This piece represents a connection to a shared pain by the community.
What sets me apart from others is my ability to take the essence of a story everyone knows, like Sysiphys, and imbue that essence into a painting. People walk away from my art entranced by the colors, shapes and have a mini experience, even if it's just a quick glance.
I use the figure as a vehicle to express emotion. The layered texture of my painted surfaces physically captures the emotional passage of time. The unnatural poses of the figures contain fractured repetitive shapes and are framed by the picture's plain landscape. In my paintings, each artwork sets the stage for a story that I hope inspires you to reflect. I am interested in the concepts of how our current society navigates the issues of our times. I like to use divisive symbols to help tell a story or a retelling of a well-known fable. I use fragmented memories of driving on the freeway, billboards, social media. I am inspired by advertising and how it is delivered to us and the psychology of it to push us to buy and sway opinions. Fascinated by artificial intelligence and its applications. Bioorganic 3D printing and applications of construction. My work often depicts the awkward moment of indecision. The moment when we are deciding something, about to take action, before the silent pause. The fleeting moment, when all the possibilities of the next decision are present.
For my performance artwork, I created a series of works called "Imagination Insurance the Art Project" in 2014. It is a project that is a totally intuitive playground combining any medium and expression of art. It is an interactive performance art piece that parallels real-world experiences, exploring art, imagination, participant becoming artist, artist becoming participant, marketing, and the idea of insurance.
I created a website and forms for claims, recruited 12 "Representatives of Imagination," and produced physical and digital "Certificates of Imagination Insurance." When a participant had a Loss of Imagination, they could "Make-a-Claim" by contacting the artist or a Representative of Imagination. We could suggest ways to help them find their imagination again. There is a series of "Imaginatercizes," a series of original and curated links, turning it into a blog for ways to inspire your imagination. There are five major categories, Friend Time, Make-A-Plane Take-A-Plane, Make-A-Story, Play With Your Food For Thought, Future Door, Stop-and-Smell-the-Internet.
I am very excited about the artist and creatives that have joined the project and I am always looking for new people to collaborate with. We currently have a Performance Artist's Alter Ego "Pink Buddha", a musician/videographer, Painters, Photographers, a Commercial Director, Fiber Artist, Sculpture, actor, and an actual insurance agent. I recognize so many people who do not work in traditional artist roles are very creative. I truly am most proud of my collaborations with others. Making art and helping other creative and people express themselves. Either through brainstorming new ideas and solutions, making something with them, or if it is living with my artwork in their private collections.
What does success mean to you?
Success to me is when an art piece comes to fruition. A thought or feeling that comes from my interactions with life, a story, a memory. When I can create something that didn't exist before and now is in this world. I love it when a piece of me inspires someone to look at life differently or falls in love with it so much they have to own it or include it in a show.
Contact Info: