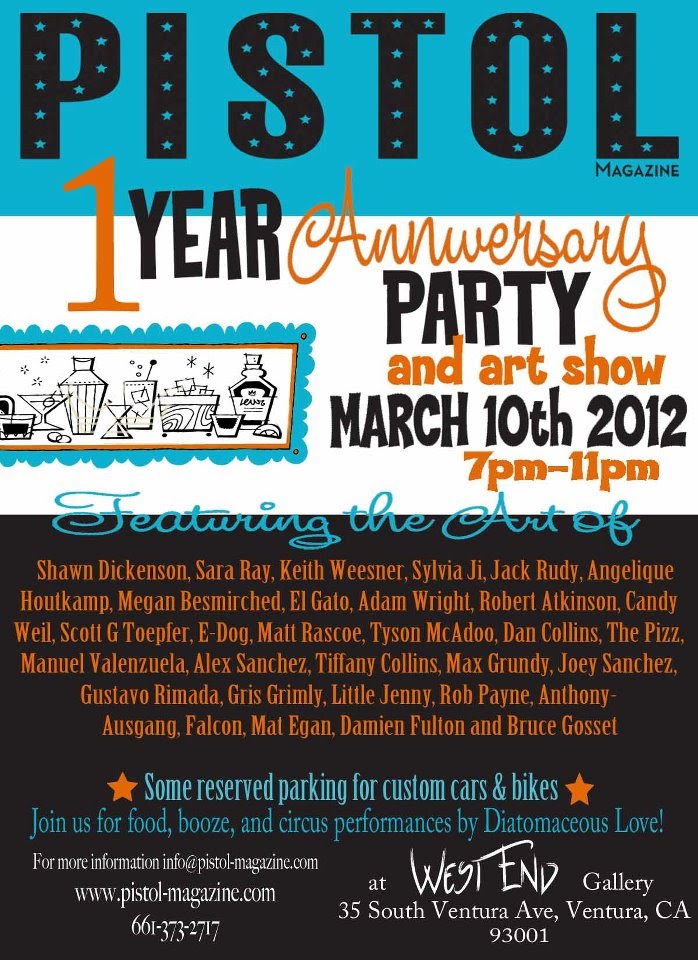 ARTISTS INCLUDE El Gato, Sara Ray, Keith Weesner, Sylvia Ji, Jack Rudy, Angelique Houtkamp, Megan Besmirched, Adam Wright, Robert Atkinson, Candy Weil, Scott G Toepfer, E-Dog, Matt Rascoe, Tyson McAdoo, Dan Collins, The Pizz, Manuel Valenzuela, Alex Sanchez, Tiffany Collins, Max Grundy, Joey Sanchez, Gustavo Rimada, Mike Lewis, Rastra Lyall, Gris Grimly, Little Jenny, Rob Payne, Anthony Ausgang, Falcon, Mat Egan, Damien Fulton, Bruce Gosset, Robert Schmolze and more.
Along with cars featured in the magazine: Ian Berky's Minor Threat, John Saltzman's Atomitron, and John Denich's Grapevine.
We will be showing films by Scott Toepfer's "It's Better in The Wind" and Piero De Luca's "Mad Fabricators 6"
Join us for food from Tipp's Thai, booze, and circus performances by Diatomaceous Love!
West End Gallery
Up front parking for cars & bikes arriving early.
For more information [email protected]
www.pistol-magazine.com