How does social media compare to other channels for B2B Marketing?
Social media marketing might initially appear to be the sole preserve of the business-to-consumer (B2C) marketer. But according to this research into B2B Social media marketing by Omobono, not only can business-to-business (B2B) marketers benefit from social media, but it could be their most effective marketing channel of all.
In a survey of 115 marketing specialists in B2B roles, Omobono found that 79% rated social media as the most effective marketing channel, with 38% noting that if they had extra budget for next year, they would spend it on social media.
'The overall results show just how far B2B marketing has shifted away from broadcast media (owned or paid for) and towards social engagement,' notes Fran Brosan, Chair and Co-Founder of Omobono:
'Social media now comes out as the most powerfully effective channel across a wide range of objectives. 79% of the 115 senior level B2B marketers who responded claim that social media is effective in meeting their objectives, from building thought leadership to deepening customer relationships.'
The graphic shows how the relative effectiveness of channels was assessed – note that these are soft measures such as brand positioning and thought leadership rather than harder measures like lead volume and quality.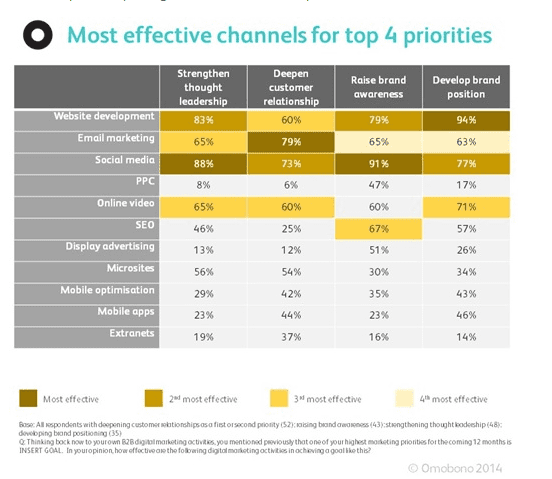 This, of course, contrasts with findings of the B2C marketing community from the likes of Forrester, which has indicated that the likes of Facebook marketing and YouTube marketing deliver less value than more traditional disciplines such as search marketing, email marketing and online display advertising.
So why is social media proving so beneficial for B2B marketers?
'We are social human beings and have always used our social experiences as a key part of our decision-making process. i.e. do I like this person? Do I trust them? Can I see myself working with them?' says Graeme Delap, social media consultant at Amaze. 'We encounter people every day in a variety of roles and environments and when this relates to a work context, the firm they work for, or the businesses they deal with has built a very powerful connection centred on trust, knowledge and an ability to deliver on promises.
'Social media is no different – it is the online equivalent of these conversations and relationships so, in terms of social media marketing, B2B firms are often best–placed to take advantage of this opportunity because it is intrinsic to what they do every day – whether that is sales or service.'
Bob Dearsley, Chief Executive at itpr and The B2B Marketing Lab, adds: 'In the B2B world, Twitter and LinkedIn are both highly effective mechanisms to drive people to your website.
'Let's put this into context. First of all, in B2B markets people don't buy from companies without checking them out online first. So the first place people go to consider, review and check you out, is your website. Therefore, the more people that you get to your website checking you out, the more chances you have of doing business.
'What's a great way of getting people to your website? Social media. It's much underrated in B2B markets with Twitter and LinkedIn being the most important routes for generating sales interest.'
Best practices for B2B social media marketing
Social media marketing in the business-to-business world is quite distinct from that in the business-to-consumer domain in terms of style, content and goals. So, how do best practices differ?
'B2B marketers need to understand that social media forms part of the online and offline communication 'mix' – optimising the effort rather than any one channel,' says Delap. 'In social media channels especially, it's not always about the volume of relationships but the quality and depth of the connection. In that sense, many B2B firms often have a head start over their B2C counterparts.'
Dearsley adds: 'A B2B audience traditionally still wants something that attracts their attention, like in B2C, but that leads them back to a website for more information.
'An important element is for B2B marketers to engage with their audience on social media. Posing a question that sparks an interest is a legitimate way of getting someone to engage with your company. In the B2C world is it all about consumers engaging with the brand, in the B2B world it is all about the solution and problem solving.'
And while there are some common challenges shared between B2B and B2C – with the Omobono research revealing common concerns related to ROI measurement and the digital skills and resources required to deliver a joined-up strategy – there are also obstacles that are unique to the business-to-business world.
'The need to 'be social' rather than simply 'act social' can easily generate fear because it is often presented as a different way of doing business or the need to adapt your business,' says Delap. 'That is a difficult thing to embrace and the lack of control – over message and audience response – can easily cause paralysis and internal debate over whether social media is the 'right' space to get involved in. But clients are changing too and leading that change, in collaboration with them (rather than having to adapt afterwards), is a sensible approach to take.'
Concerns over compliance and risk
'Compliance and risk can also be significant barriers to overcome and fear of losing or damaging the relationships built up over time by staff in-store can also be a challenge,' suggests Delap. 'This makes it critical to join-up online and offline communication channels to ensure full visibility as smoothly (and quickly) as possible – and allocating adequate resource and budget.'
Having a narrow definition of social media
'Some channels are seen to be more suitable for B2B than others – Twitter and LinkedIn, for example, are used extensively and successfully by businesses to promote their services, build relationships and share expertise,' says Brosan. 'But it's much less common to find business conversations on other social networks, such as Facebook or Instagram. Business people on the whole want specific information at specific times about specific issues. Of course, specialist groups do exist around particular disciplines and some areas are very well networked – financial services, specialist IT, legal services and marketing, for example – but to penetrate a very small subsector within these takes research and commitment. Relationships need to be built over time, one moment of connection at a time. Using social media to provide the right information to the right person at the right time can be a time consuming process, but it is critical.'
Delap adds: 'It is clearly more than just Twitter and Facebook. For example, industry forums are a rich – and often overlooked – source of insight and influence.'
B2B products/services are harder to 'dramatise'
'Firstly, they are often complex and require a level of expertise to truly understand the points of differentiation between one product and another,' notes Brosan. 'Secondly, B2B purchases often produce results in the longer term, so it's harder to produce a quick 'before and after' story which people instantly get. Thirdly, sometimes they are not critical purchases. Much business equipment is bought because people need it, not because they are longing to have it or believe it will make a critical difference to their business. They may save money over the long term if they buy the right thing, they may improve the experience for customers, but these are activities at the margins – not decisions of major strategic significance. So simply producing the content which properly engages the audience in the right way can be a massive challenge.'
B2B benefits
So how can B2B firms rise above these challenges to reap the benefits that SMM can provide?
'When thinking about social media from a B2B marketers' perspective, it is all about targeting people who are clearly interested in solving the problem that's being talked about,' recommends Dearsley. 'Focus on how you can position your company as understanding the issues faced by your prospects – the fact that you 'get it' – and therefore can help them.'
Brosan agrees that it is vital to put yourself in the customers' shoes – and to also consider the frame of mind that they will be in when looking at your business online.
He explains: 'What information they want will depend on where they are in the buying journey. For instance, have they just set out to see who's in the market, or are they evaluating a small number of suppliers for their expertise in a specific area? It will also depend on who they are and their role in the buying decision'.
'A user might want a detailed white paper which evidences the product's capabilities and includes technical spec sheets, but their boss, be it the finance director or CEO, may only want to be reassured that this company is a reputable partner. A graduate may be interested in whether the company actively engages with their local community, whilst an experienced hire might look for peer endorsements of the senior management team.'
Brosan highlights the 'casual/curious/committed model' developed by Omobono, which illustrates how audience needs might vary and how individual pieces of content can be flexed to respond to those needs.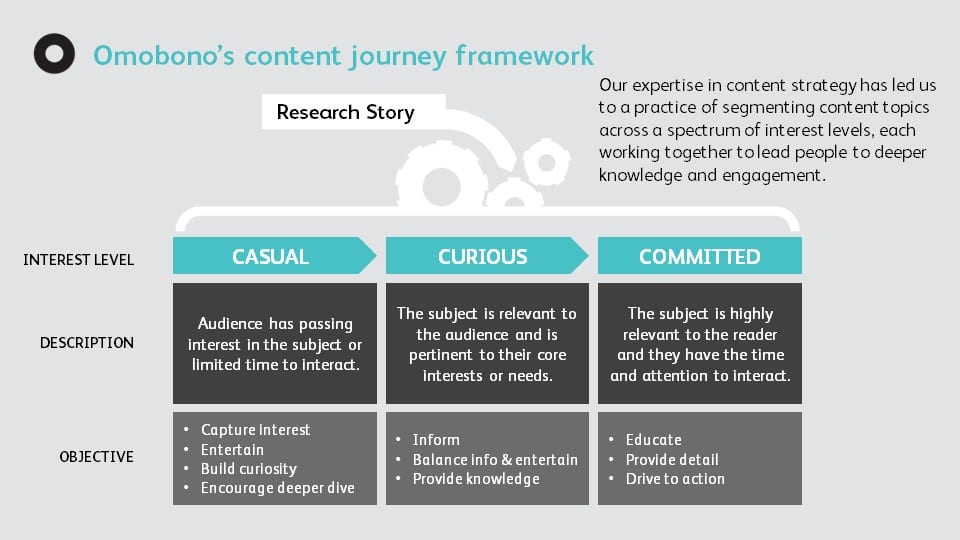 Elsewhere, in terms of more practical advice, B2B marketers must ensure that ultimately they are driving people back to their website.
As Dearsley explains: 'By providing a link to a longer article on your website, such as an ebook or your blog, you can get engagement with your website directly from your social media post. But make sure you have some clever software on the website to track that activity.
'With B2B marketing it's not about just getting a reaction. It's about getting a reaction and driving them back to your website. Then good content on your website can actually generate leads, as people will provide you with their contact details, provided you have proved that you know what you are talking about and can help them.'
And, of course, there are always the basics to bear in mind, in terms of skills and resources.
'It's vital that businesses allocate the right resources in time, money and skills to maximise the opportunity social media presents and to differentiate themselves from competitors,' explains Brosan. 'Getting the right team and partner pieces in place to deliver truly valuable and standout content, consistently and at volume, is the next step for B2B organisations to make the most of their social media investment.'
Delap's B2B Tips
With that in mind, Delap has the following more general pieces of advice for B2B marketers.
Spend time crafting your social media strategy and plan your operational activity to deliver that strategy.
Be very specific about how to measure the business objectives set, so value can be attributed to the work.
Listen carefully and monitor the conversations around your brand and competitors before you engage.
Do not get sidetracked by the vanity of accumulating fans or followers.
Be clear about the social media channels which best 'fit' your audience – what they already do in those channels and the behaviours, attitudes and relationships you are trying to develop.
Accept that not all social media channels are right for your business.
Delap adds: 'If done well, social media is more than capable of adding real value to a business and the bottom line. It's no longer an option to err on the side of caution and not get involved. Your clients expect, and need you, to take the lead.'
Andrew Yates, CEO of Artesian, echoes these sentiments. 'If you're not already doing it, get going. There's a load that B2B marketers can learn from their B2C colleagues, so start finding examples that are transferable. But, like every investment, be very clear on what you are trying to get out of investing time and money into social and understand what and how you will measure success.'