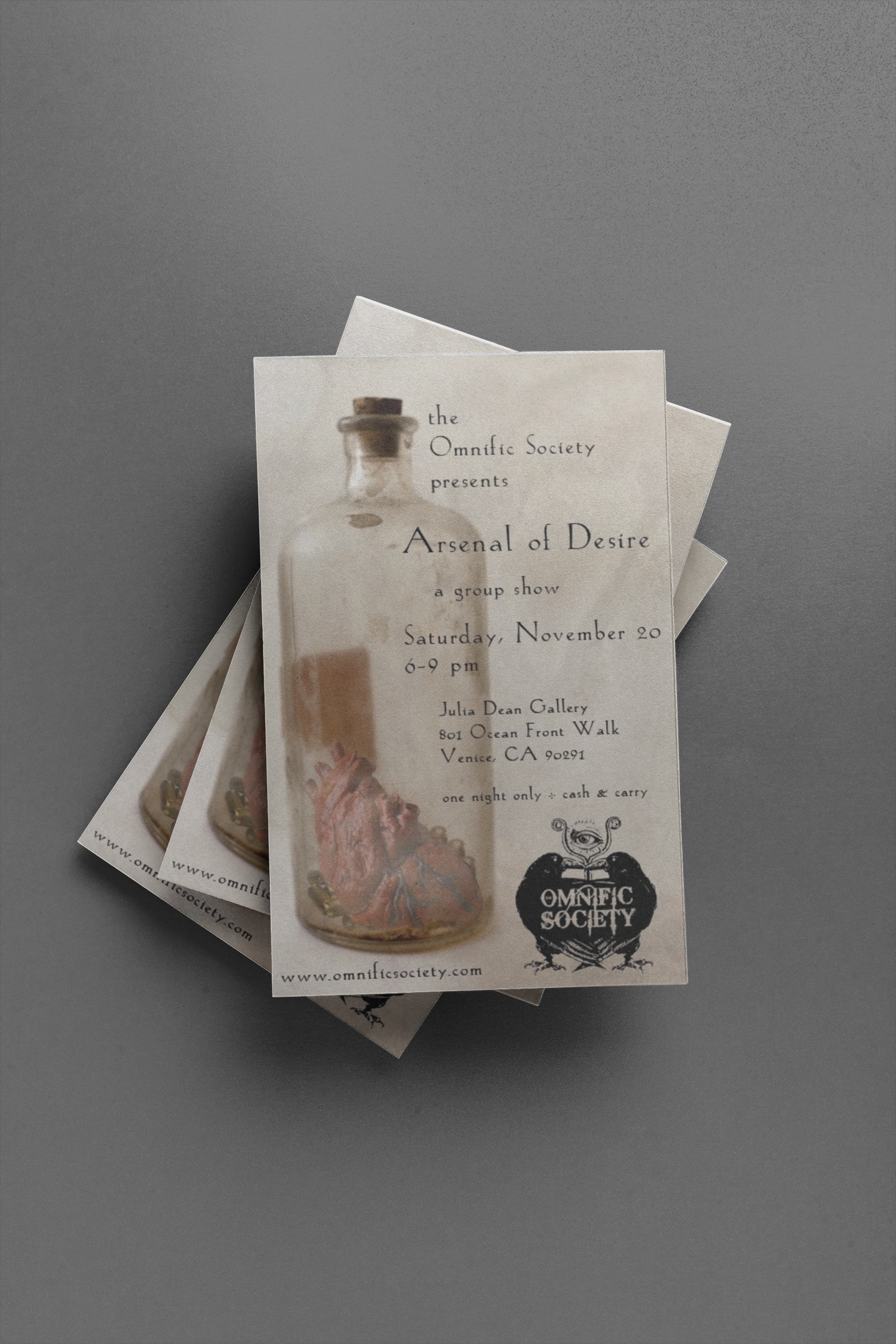 Arsenal of Desire – Omnific Society Group Show
Arsenal of Desire
Omnific Society Group Show
An Exhibition of New Work from 10 Southern California Artists
One night only, Cash & Carry: November 20, 2010, 6-9 pm
The Julia Dean Gallery
801 Ocean Front Walk, Venice, CA 90291
LOS ANGELES, CA
– November 1, 2010 –
The Omnific Society, a collective of
Southern Californian artists have announced its 2nd annual art show entitled 'Arsenal of Desire'.
'Arsenal of Desire' is a group show exploring and expressing the rich passions that are the basis of the human experience, and intrinsic in the process of making art. The impulse to create is, at root, the desire to express oneself and the way we see the world. Through various mediums, the Omnific Society's work uncorks the bottled emotional well, exposing to the light their visions and inspirations, sounds and textures. These artists, emerging and established in their own rites, bring their unique sensibilities to this exhibition through a broad spectrum of mediums ranging from assemblage to oil painting, poetry to photography, music to photomontage, jewelry to sculpture, and a few odds and ends in between. The diversity of styles and subject matter combine to form an exhibit that is truly unique, yet unified in each artist's creativity and talent.
The collective's first group exhibit, held in Culver City in September 2009 was an overwhelming success, with a packed house and over a dozen pieces sold in the course of one evening. With this 2nd show, the Omnific Society expects to surpass the success of the first event, with their one night only pop-up cash and carry the show. All sales benefit the Omnific Society collectively and individually.
'Arsenal of Desire' will be held November 20, 2010, from 6:00 to 9:00 p.m. at the Julia Dean Gallery at 801 Ocean Front Walk, Venice, CA 90291. For more information visit:
www.omnificsociety.com
Work from the following artists will be featured in the show:
Photomontage work reaches into the mythic to find comfort and hope in an unfamiliar (and somewhat uncomfortable) landscape. Blending antique photographs with her modern photography, she creates new landscapes which suggest to us that when looking for a soft place to land, we land in our dreams.
Jamile G. Mafi
An award-winning and multi-faceted artist who has had her art exhibited, photography published and poetry anthologized. After receiving her BA in Graphic Design & Fine Art Photography from Cal State Northridge, Jamile has spent the past 20 years working as a graphic designer and art director in Los Angeles.
Nina E. Koumachian Ehlig
Continues to venture the trails of art anarchy through her spiritually charged adornments. Much of her inspiration comes from ancient cultures, mythology, and erotica. Images of new creations reach Nina's mind complete, and as rapid as Tachyons. Her work has been shown at "The Gallery at the End of the World" in Altadena and is featured at "Heart and Soul Healing Art Center" in Pasadena.
Inspired by the industrial revolution. He creates symbolic imagery that speaks to the past, present and future. His work deals with issues of the Tech-revolution, global community and the humanity of our time. Robert is a strong advocate of art education and expression and has been an active participant in the Los Angeles art community, galleries, and alternative art spaces for over ten years.
Believes in the generative power of cosmos over the despair of chaos. She finds great joy in creating work that brings together the disparate and often discarded things of this world and creating a new and cohesive whole. This work is the reflection of her journey of self-expression and creative exploration – and in the end, the discarded treasures finally find their place, are given fresh life and a new story.
A world-renowned singer, artist, and published writer. She is currently performing with the legendary thrash/metal band, DÉTENTE. DÉTENTE's new album Decline offers an intelligent yet highly intense, passionate commentary upon American society and the often bestial nature of politics and humanity.
Alan Deforest
A mixed media artist, sculptor, painter, and musician. He uses antiques, bone, old ventriloquist dolls and oddities found from his travels. The combination of items creates his "Organic Mixed Media Boxes", which breaths life into what has been considered lost. Alan's artwork is a reminder that there is much more after death…That the essence of life in a forgotten metal, or organic being is just the beginning. Alan is also a resident artist at The Hive Gallery.
Sara Tune
Studied photography at Parsons School of design but didn't feel compelled to become a commercial photographer. Instead, she found work in the movie industry sculpting, painting, and building sets, which gave her the skills to create big art signs and her assemblage pieces. When she had children, her art slowed down to a halt, and the iPhone presented her with an artistic tool that was always available. Sara's art has appeared in Rob Zombie videos, Venice Magazine, TV series shows, and Venice, CA design shops.
Kevin Johnson
(a.k.a. Boots Bryant) is a photographer and writer. He has photographed events for Warner Bros., including several red carpet arrivals. He's represented the AVN media Network for events including Erotica L.A., in-store celebrity signings, art gallery openings, and fashion shows. His work has been featured at Antebellum Gallery in Hollywood.